Posts tagged Anthony Hamilton
Fresh off the success of her album, The Light of the Sun, Jill Scott was banking that fans would 'hear her call' when she decided to heat up stages all across the country with Anthony Hamilton, Mint Condition and Doug E. Fresh for Jill Scott's Summer Block Party.
When the tour hit her hometown of Philadelphia, you know it wasn't anything but a party. Watch in the clip below as Doug E. Fresh provides the beat while Jill Scott freestyles for the audience, there's also commentary and performance footage.
"I just cannot believe this is my life, this is what I get to do" - Jill Scott
If you're interested in hitting the Block Party, there's still a few dates, check out Jill's website for more info.
---
This weekend Las Vegas welcomed Black entertainment's A-list celebrities for Steve Harvey's 9th Annual Hoodie Awards. For four days, Steve Harvey and his morning crew, Nephew Tommy, Shirley Strawberry and Carla Ferrell partied all weekend long, this morning Steve was so tired, he joked about not giving advice to the Strawberry Letter, LOL!
The weekend was filled with celebrity hosted events and famous faces to help celebrate winners of the Hoodie Awards. Kem, Jill Scott, and Kirk Franklin were part of the evening's entertainment for the Hoodie Awards, which honored community favorites in categories from Best Church to Best BBQ, and my favorite Best Community Leader.
Other celebrities at this weekend's events included Kevin Hart, Tank, Tichina Arnold, Letoya Luckett, Antonia Carter Wright, Toccara, Johnny Gill, Faith Evans, Frankie Beverly and Maze, Sheryl Underwood, Raphael Saadiq, MC Hammer and many more!
Check out the gallery of photos from the events at TheQueensCastle.net
Read more to see performances from Johnny Gill and hear Steve Harvey talk about next year's Hoodie Awards, while providing insight on buying power!
---
Live Performance :: @MissJillScott and @HamiltonAnthony "So In Love" on Jay Leno
Last night, Jill Scott and Anthony Hamilton performed So In Love on the Jay Leno Show. So In Love is the first single from Scott's album, The Light of the Sun, which will release next week on June 21.
---
NEW VISUALS :: @MissJillScott "So In Love" featuring @HamiltonAnthony
The Light of the Sun is shining brightly on Miss Jill Scott!
So in Love is the first single from her album, The Light of the Sun, which will be released on June 21, and is available for pre-order on iTunes!
More on Miss Jill Scott at The Queen's Castle, here.
---
Flashback Friday :: @TheRealKiss "Why" featuring @HamiltonAnthony
Jadakiss released Why in 2004. The first time I heard it, I happened to be home in New York City; the airwaves were loving it back then and I still do. Seven years later… and still, there are unanswered questions. 
---
It's so official. Jill Scott has made my week. I've been missing my sister Queen, and now following the release of Shame with E-V-E and the A Group, she drops So in Love featuring the voice that is Anthony Hamilton!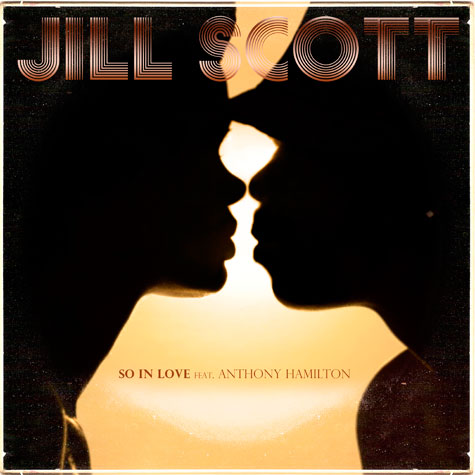 I knew that today was going to be a good day *Ice Cube voice*! Light of the Sun in stores this summer! :)
---
Today, the R&B singer announced she was pregnant with a boy, and plans to name him Kingston! Source.
According to her web site, she is gearing up to release her new album, Underrated, sometime this year!
One of my favorite songs is her duet, More, with Anthony Hamilton from her 2005 album, Chapter 3: The Flesh; check it out here.
The first time I saw her live, she was opening for R. Kelly in Grand Rapids, Michigan, it was just after the release of her first album; I own every one of her LPs. Her vocals are nothing to be played with. If you are unfamiliar with her music, Google her.
Again, congratulations Syleena! 
---
I Can't
Heavy D featuring Anthony Hamilton
NEW MUSIC :: @HeavyD featuring @HamiltonAnthony "I Can't"
Nice…
---