Posts tagged Kenny Lattimore
@Lovenoise and @92Q presents @ChrisetteM with Special Guest @KennyLattimore 
Last year, when LoveNoise and 92Q brought Grammy Award winner, Chrisette Michele, to the Cannery Ballroom, it was a standing room only affair. At that time, Lem Payne and Laura Izibor were with her, but this time, special guest and R&B crooner, Kenny Lattimore, will share the stage for what promises to be a grown and sexy affair.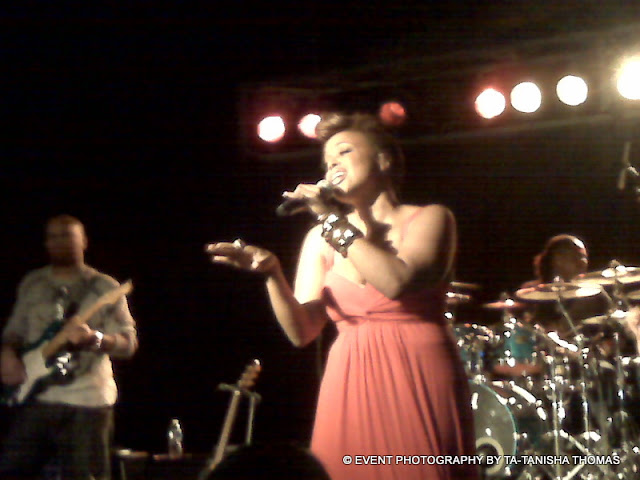 On tour with her third studio album, Let Freedom Reign, Michele has grown as an artist with ease, even her LP covers have evolved, as she initially looked away and toward the sky, but now faces the world head on with hands on hips. That evolution has fostered a transformation in her physical appearance as well, donning a natural close cut that almost forces you to focus on her eyes, the windows to the soul. With every note at every octave, she shared her soul with us that night, pure artistry.
Chrisette's soulful voice respectfully compliments Kenny Lattimore's addition to the ticket, promising to be an event that should not be missed. An ordained minister, Lattimore has made timeless music as a solo artist and with his wife, Chante Moore. A greater appreciation for R&B music overseas has allowed Kenny to reach superstar status in countries like South Africa, where he has played to stadiums of fans. Kenny understands, "songs have so much power, great songs are universal, and a great song can transcend time." Source 
Limelight Entertainment Complex is the place to be on Friday, February 18, 2011. Doors open at 8 PM, show will begin at 9 PM and tickets are on sale at local retail outlets in Nashville (see the flier above for details) or you can purchase $35 general admission tickets, here; VIP/Meet-and-Greet packages are also available.
For more Chrisette Michele coverage at The Queen's Castle, click here. Make sure you check out her As Written with CentricTV, here. You can also keep up with Queen Chrisette on Twitter, FaceBook or her at her website.
Kenny Lattimore was most recently seen in the Kim Fields executive produced family special, Holiday Love, which aired on TV One at the end of last year, more here. For an in-depth look at Kenny Lattimore, visit his website, here or find him on Twitter and FaceBook.
---
@KimVFields Spreads "Holiday Love" w/ @BCourtneyWilson @Ledisi @RickeySmiley @MarvinSapp @YolandaLive @SmokieNorful @WessMorgan @KennyLattimore and More!

On Sunday, December 19 at 7PM/6PM EST, TV One will present "Holiday Love," an one-hour special for the whole family. Executive Producer, Kim Fields, will host the special which will treat audiences to funny comedy skits, songs from some of the best artists in gospel music and of course, spread the season's holiday cheer!
Guest appearances include Marvin Sapp, Yolanda Adams, Brian Courtney Wilson, Wess Morgan, Ledisi, Kenny Lattimore, Smokie Norful, Rickey Smiley, Mo'Nique and much more!
Make sure you tune in tomorrow and get your holiday love! <3
---